Our knowledgeable staff are passionate about providing families guidance and support during the funeral planning process and well after the funeral. Together, we can honor your loved one's life while beginning your grief journey.
---
Cascade Cremation & Burial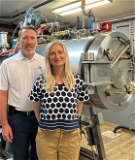 Travis and Alice Sandusky
info@cascadecremations.com
Klamath Falls native and KUHS graduate Travis Sandusky and his wife, Alice, have opened a new cremation and funeral provider in Klamath Falls: Cascade Cremation & Burial. The couple owned and operated Redwood Memorial Chapel and Crematory in Brookings, Oregon for the last 10 years before selling it and making their way back to Klamath Falls. "I've watched from a distance the ethical failures that have plagued the funeral industry in Klamath Falls over the past few years - we felt it was time to do something," said Travis, a licensed funeral director, embalmer and preneed insurance agent. The Sandusky's pride themselves in providing superior, caring service at an affordable price using the most modern technology available. Utilizing technology allows the process to be more efficient and accurate when it counts, as well as makes working with family members who live in other towns much easier. "Our website has been designed to be a local resource for families, a digital gathering place for condolences and a platform to allow families to make arrangements from the comfort of their homes - on their timeframe, " said Sandusky. Cascade Cremation & Burial can provide a wide array of services including on-site water cremation, traditional flame cremation, viewings, funerals, burials - both locally and out of town, whole body donation, as well as price-protected prearrangement plans. They recently completed a complete remodel of their facility at 1229 E. Main Street with the help of Jason Westfall Construction, Langfield Painting & Drywall, Basin Telecom, Jefferson Wiremen, Wet n' Wild Sprinklers, Bower Fencing and Frank's Carpets. "Although we are operating in a building that previously was a funeral home, we completely revamped the facility to be warm, clean and comforting for our families," added co-owner Alice Sandusky. In keeping with their name and logo, Cascade hosts a variety of mountain scenes from local photographers Brad Goldpaint, Jonathan Irish and Nikki Hart. Cascade Cremation & Burial can be reached by phone 24/7 at (541) 887-2919 or online at www.cascadecremations.com.